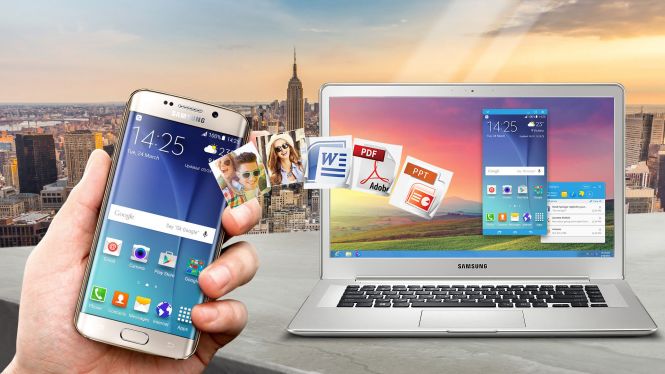 Need to sync your calendar, list of contacts, music, and videos between your PC and Samsung phone or tablet? SideSync can definitely help. But are there any decent alternatives to manage your Galaxy S9 or Note8 device from PC? Let's look at the programs and choose the best program to sync your data.
AirDroid
It is an application where you can use almost all functions of the Samsung device. If the appropriate client for Windows is installed on the computer, you have the possibility of making voice calls, SMS-correspondence, file exchange (video, music, documents, photos, etc.), viewing and editing the address book, import and export .apk files, send an audio notification to the device and much more.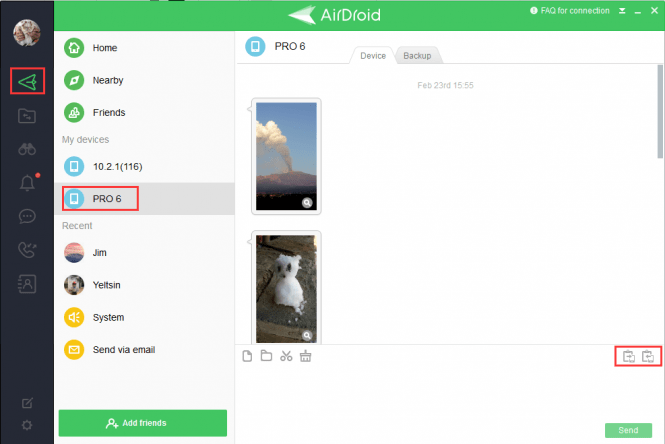 Control your devices
As for the AirDroid transfer of files (as well as any other data) between the PC and Galaxy, then there will be no need for additional wires, cables or some complicated actions: the devices are connected in a wireless network through which information is exchanged at the high speed.
Official website: airdroid.com To download it, click here
TeamViewer
It's not surprising to have the program to gain access to a remote computer. Just open the browser and make a request 'remote administration', and the search engine will give a huge number of links to programs of this type. Such tools are well known to system administrators and are actively used in everyday work. Nevertheless, today we again would like to return to the topic of remote administration and talk about such an interesting project as TeamViewer.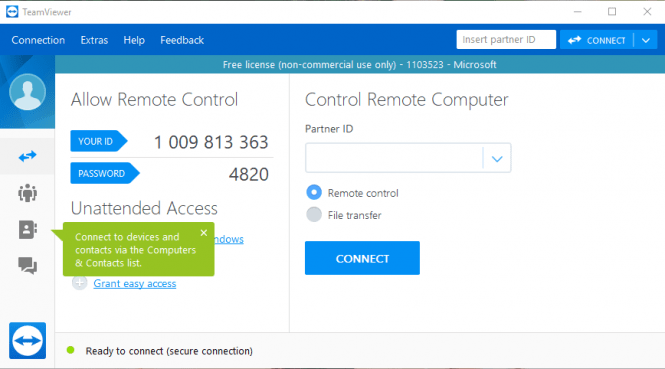 Remote control
Recently, TeamViewer has become rapidly gaining popularity and has already won the favor of more than 100 million users. The program is very easy to use. There are several ways to use TeamViewer. For example, you can install the full version of the application on both computers, or you can use a small TeamViewer QuickSupport module on the computer to be connected to, which does not require installation. In addition, there is the possibility of remote administration right in the browser window. In the latter case, you do not need to install anything on the computer from which you plan to connect. The next argument in favor of the utility for remote administration is the ability to use this application on any platform: on Windows, Mac OS X, Linux and even on the iPhone and iPad.
Official website: teamviewer.com To download it, click here
MirrorGo
MirrorGo is a powerful tool for displaying the Android screen on a PC in real time. The program performs much more functions than the display of the phone screen on the computer monitor. It is specially optimized for fans of computer games.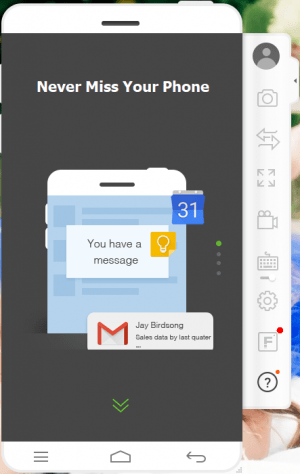 Mirror your Android screen
With the mouse and keyboard, you can play Samsung games in the HD format on your computer, saving game statistics on both PC and Android. You can easily record the game process and take screenshots with MirrorGo. And of course, transferring files between the mobile device and the computer is a very simple task.
Official website: wondershare.com To download it, click here
Vysor
You can think that controlling the Samsung phone using the keyboard and mouse is nothing more than fun for geeks. The program Vysor dispels such thoughts. It is a unique program that allows you to manage your Android device through a desktop computer.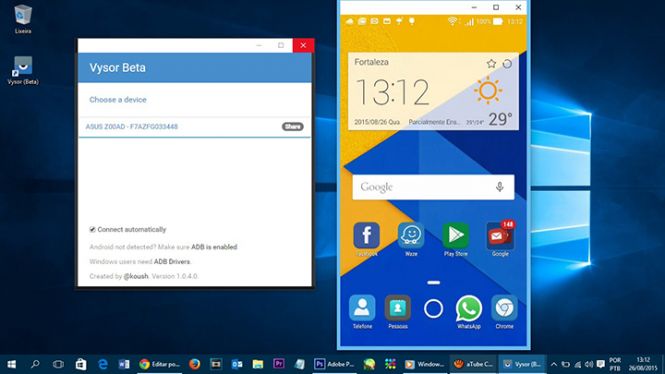 Control with your keyboard
Vysor is not an emulator, the utility broadcasts everything that is happening on the screen of the smartphone or tablet while allowing it to affect it. For example, you can easily receive a call or reply to a message by typing text on a physical keyboard. The only restriction for the full use of the tool is a paid subscription. But the lucky owners of the premium version can adjust the quality of the output image and even connect their device via Wi-Fi which further expands the possible scenarios for using the program.
Official website: vysor.io To download it, click here
APowerMirror
APowerMirror is a desktop program to easily display the screen of Android and iOS devices on your PC. With it, you can transfer videos, photos and other media files from your mobile phone to a larger screen, giving you a stunning visual effect. This is also useful if you want to present your demo application to the audience. You can view them either on a regular screen or full screen.
In addition, ApowerMirror supports the use of a mouse and keyboard to control the Samsung phone from the computer. Thus, you can freely play all Android games, send SMS or WhatsApp messages and manage various applications from your PC. In addition, any notifications on your Android will be displayed on your computer, ensuring that you do not miss any important issues while working on your PC.
Official website: apowersoft.com To download it, click here
SideSync
Samsung releases its SideSync utility for computers running the Windows operating system. The utility used to be an exclusive for the ATIV line of notebooks and Samsung tablets, but with the release of SideSync 3.0, any Windows owner can download and use the utility. As for the Samsung models, you can use SIdeSync on all Samsung Android phones Galaxy S III or later that run Android KitKat 4.4 or above. Notice that Galaxy S9 and Galaxy S9+ do not support the program (in this case, use Samsung Flow).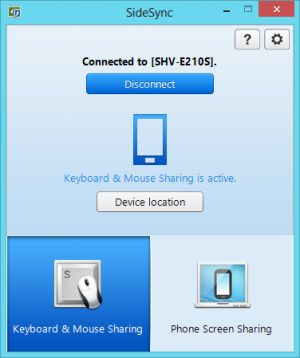 Samsung file transfer
SideSync offers automatic backups, file transfers and the ability to use a connected Samsung Mobile with a traditional mouse and keyboard usage. The program also allows users to "mirror" their mobile screen on their computer with Windows installed. In this mode, users will be able to navigate the screen of their Android device using their computer. Two devices can be connected either via a data cable, or via Wi-Fi.
Official website: samsung.com To download it, click here
Conclusion
There's a variety of decent SideSync alternatives to control your Samsung device from PC. SideSync used to be a unique app but now you can choose another program depending on your purposes.

If you are a gamer, use MirrorGo or Vyser to play Android games on your PC. If you need to transfer photos, music or video, try TeamViewer or AirDroid. With APowerMirror, show your presentation on a larger screen without moving files. If you prefer old-school apps, use SideSync, it still works great to back up your files or control your Samsung phone with a mouse.